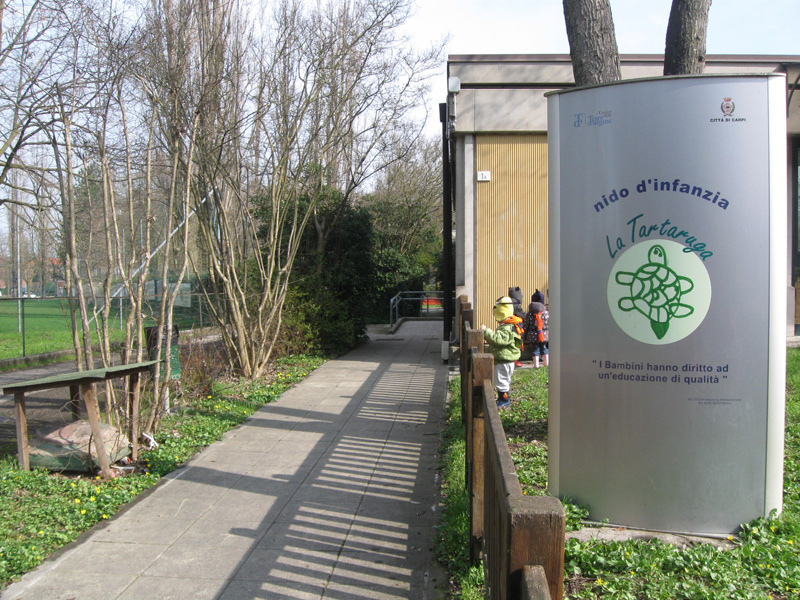 La Tartaruga nursery school is set in a large green area that is shared with Pegaso pre-school. The indoor and outdoor spaces are articulated and organized of centres of interest in support of an educational proposal oriented to the children autonomy and the development of the plurality of their intelligences, which takes into consideration their skills, combining the safety need with exploration and knowledge one, the desire for intimacy with the pleasure to be with others. The spaces' planning takes into account the different age of children: materials that offer multi-sensorial experiences, spaces dedicated to reading and conversation, creative and informal materials... The educational environment is organised in spaces that allow easy recognition of the different chances of play and movement. For oldest children, the spaces are set up with educational proposals that promote autonomy and more and more refined skills. Play with informal materials, symbolic play, the play self-organised in small groups are experiences that lead to a harmonious growth both from the cognitive point of view and from the socio-emotional one.
In a small atelier, the children can experience graphic, painting and creative proposals, with clay and other materials that allow pupils to leave traces of their work. An indoor garden welcomes a fish tank and two turtles that live for long time in the green area. Taking care of the turtles, like taking care of the fish, becomes a daily ritual for children and often this ritual accompanies the greeting moment in the morning. Garden space, wide and varied, has been re-plan thanks to families contribution, through the creation of small green ''labyrinth'', adequate play areas for children of different ages that allow natural experiences.
Tartaruga Children Space
Within the same building where La Tartaruga nursery school is placed, an educational service is active aimed to respond in a flexible way to the diversified needs of families. It is a place of meeting, socialization and learning in which qualified educators take care of the physical and emotional well-being of children, supporting their relationships, social skills and stimulating their cognitive curiosity. In this way each child has a path of growth respectful of his identity, his needs, his times. The Children Space Tartaruga welcomes children from 15 to 36 months, with a daily attendance of 5 consecutive hours maximum. No lunch is provided, but a snack is guaranteed (fruit, biscuits, cake, yogurt, fruit juice, tea ...).
What we do...
| | | |
| --- | --- | --- |
| Mixture | Intrecci | Lo spazio che educa |
| | | |
| Incontri tra materia e colore | Costruire legami | La vita è più divertente... |
| | | |

Families and participation
Families participation in the nursery school's life is achieved through different modes: parents-school individual talks, the section meetings, the Nursery school Board, playing afternoons, testify to the wealth of opportunities for meeting, discussion and sharing. The families took part in the plan works of outdoor spaces, creating a natural labirinth and other playing areas, built with natural materials.