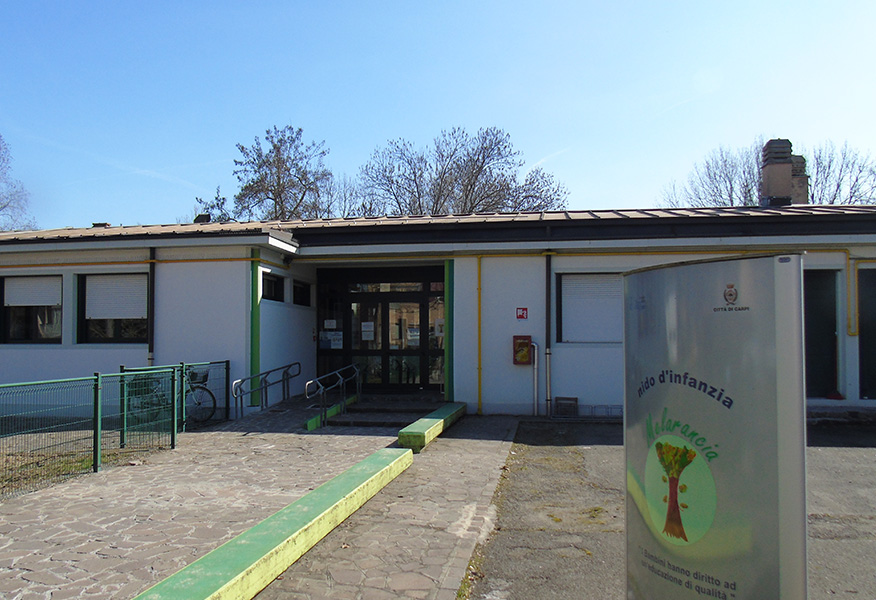 Melarancia nursery school is located in the same building of Agorà governament pre-school, in Bollitora area, in the south of Carpi. Currently the nursery school has two sections of children who attend part-time schedule (from 7.30 am to 1.30 pm). Entering the nursery school, a large space welcomes children and their families through comfortable and cosy areas that support a positive beginning of the day and a quiet greeting. This place is set up with furniture and materials that promote the different interests and play modes of the children, there is also a small library for families. It's a very peopled environment in everyday life, often small groups of children of different ages meet each other to share playing opportunities. Near to entrance, there are the sections, each divided into three spaces and the bathroom. Each space is designed and articulated with materials and furnishings that promote free exploration and different possibilities of choice for children, as well as address their security and intimate needs. The settings change over time, according to the projects and children interests. Into each section is also organized an atelier, mainly characterized by various materials, for handling experiences, expression language and creativity. The nursery school garden is large and accessible from all rooms. It presents playing situations with facilities (swings, slide) and other areas that promote the natural exploration, outdoor symbolic plays and ''adventurous'' situations, such as the ''big hill'' where the children can climb, climb down and hide. It's very important for children to be able to experience themselves in outdoor situations, where they can live rich and exciting motor, exploratory and cognitive experiences. The proximity to the pre-school also allows the pupils to live moments shared with older children, organized and planed by educators and teachers together.
Families and participation
Families participation in the nursery school's life is achieved through different modes: assemblies, parents-school individual talks, the section meetings, the Nursery school Board, workshops and parties testify to the wealth of opportunities for interaction, discussion and sharing. In addition to these chances, by joining the Special Agent 006 Association, the Nursery school Board and families can activate special and transversal missions: projects and activities aimed at enriching the educational experience, play materials and project proposals for the children.