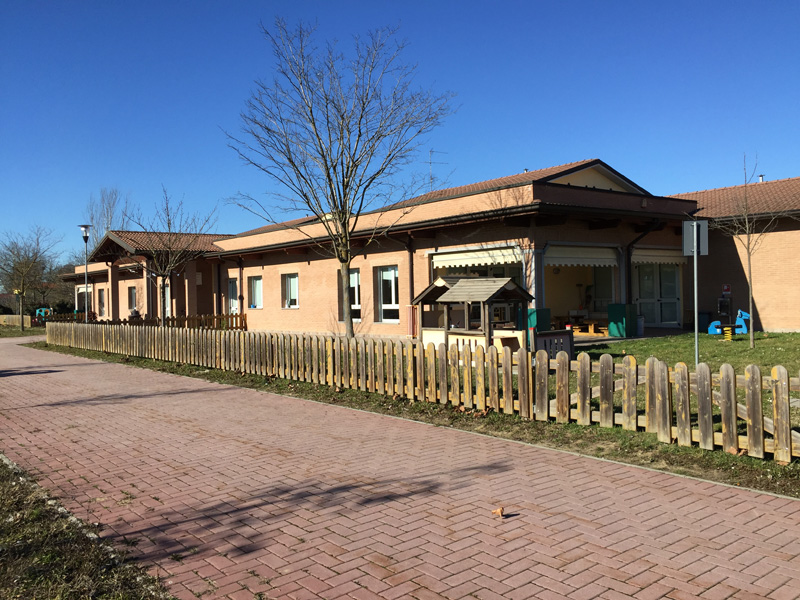 Arcobaleno nursery school is part of Children Complex ''Alberto Roncaglia'' with Children and Families Center ''In Erba''. It's located not far from the city center and is surrounded by a large green park, bordering with the countryside. It has a central common area, three large sections with direct access to the garden, an atelier and a winter garden. The central space and the sections are characterized by furniture and materials appropriated to different ages of children, to their needs both from the cognitive point of view and from the corporeal and sensorial one, with a specific focus on development of knowledge and multiple skills.
Particular attention is given to the use of natural and recyclable materials, suitable to support the child in the play and in the free interpretation of the objects, and to promote all those aspects concerning art and children creativity.
The common objectives in the working group of educators, who often meet collegially for discussion moments, develop and promote learning experiences that involve the whole community and territory. Each experience is based on shared educational proposal, inspiring by the Pedagogical Project that connects all the Unione Terre d'Argine educational preschool services.
Arcobaleno nursery school is particularly interested to promote and a strong relationship with the territory. Trying to enhance this relation, educators organise workshops, playful moments and follow-up meetings with the families, that encourage exchanges and relations between educational services and Soliera's community.
This peculiarity, which aims to establish a privileged relationship between children, families and citizens and to create multiple experiences, represents the added value of this nursery school' education provided.
Families and participation
Families participation in the nursery school's life is achieved through different modes: the nursery meetings and section meetings, the Nursery school Board, parents-school individual talks, parties, playing afternoons. The strong relation that over the years the teachers built with the network of services in Soliera community has promoted projects, square workshops, exhibitions and other sharing opportunities between families and between nursery school and territory.