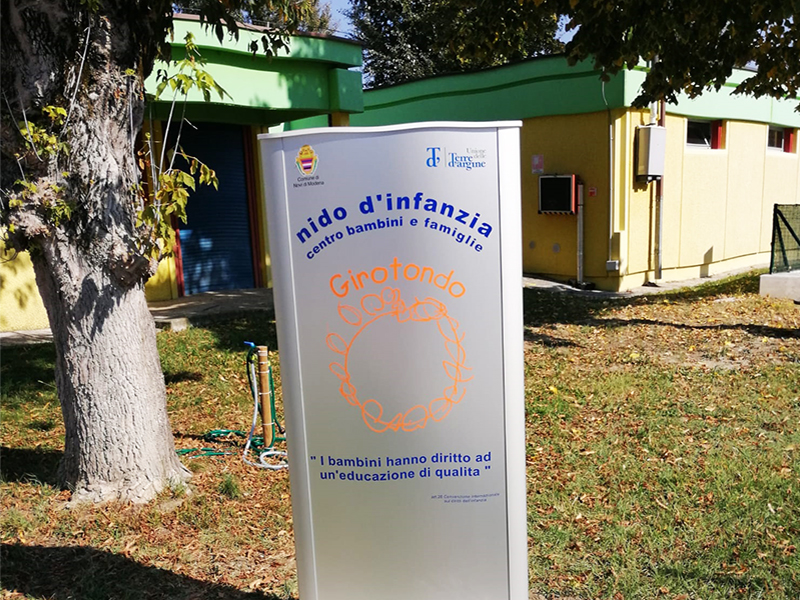 Girotondo nursery school in Rovereto s/S is located in the same building that houses the pre-school too, and shares with it the adjacent, but separate, inside and outside spaces. Upon entering the nursery school, you are greeted in the common area, which contains furniture and materials designed for children 0-3 years.
The two sections overlook this common space, set up and arranged with materials and plays that children use independently and in small groups of mixed ages. The shared spaces are often opportunities for meeting, exchange, knowledge and relationship between adults, between children and adults and within the group of children. Through this plurality of relationships, experienced daily, children increase their ability to relate to others, creating specific opportunities for cognitive and emotional development.
The nursery school has a large outdoor area, full of learning and playful opportunities, planed to encourage and support the growth and overall development of children attending the service. It is an area much used by the teaching staff in everyday life, and recently renewed thanks to families contribution, through participatory project and workshops, and to the contribution by non-profit organization of the territory, which it funded and promoted an experimental path aimed to the support of outdoor recreational activities.
Families and participation
Families participation in the nursery school's life is achieved through different modes: parents-school individual talks, the section meetings, the Nursery school Board, workshops, playing afternoons, testify to the wealth of opportunities for meeting, discussion and sharing. The families, along with educators, revolutionized the garden arrangement, removing the structured games and building new furniture, including a kitchen completely made by recyclable materials. In addition, they have created, with the support of a non-profit organization and the expertise of a professional gardener, an outdoor "aromatic lab" with different types of plants. The attention to the topic of outdoor education has benn supported by active participation of families in the plan and plan and creation of a natural path of equilibrium/disequilibrium and a mud pit.