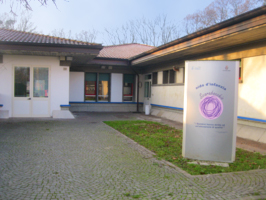 The Scarabocchio nursery school is located in Leopardi, in the south of Carpi area. The building is surrounded by a large park, indoor and outdoor spaces are articulated and organized of centres of interest, in support of an educational proposal in order to promote the children autonomy and the development of the plurality of their intelligences. An entrance leads to three sections through a common hall. The sections usually welcome quite homogeneous groups of children and are fitted out with furniture and materials that take into consideration the children needs curiosities. Therefore, the spaces are conceived and designed in order to support different experiences: symbolic play, psychomotor paths, graphic-painting activities, areas dedicated to reading and conversation into small or large group. Other spaces, depending on the educational proposals related to specific projects, from time to time, are set up as luminous atelier, or handling laboratories in which not-structured materials, with the natural and recyclable materials, are suited for 'handling' by the children and encourage creativity and constructiveness. Each section has a direct access to the garden, organized to promote self-exploration, playing experiences and to discover the nature. The youngest children (1 years old) can access to a reserved area of the garden, set up to be appropriated to their needs and skills. The families collaboration allowed the realization of a project about the outdoor spaces reorganization that produced the creation of natural ateliers set up with materials that offer different sensorial experiences, where exploration, discovery and handling are the basis of cognitive processes.
families and participation
Families participation in the nursery school's life is achieved through different modes: parents-school individual talks, the section meetings, the Nursery school Board, workshops, playing afternoons, testify to the wealth of opportunities for meeting, discussion and sharing. In the last few years, the teachers have involved families in some educational projects. This allowed a full sharing of experiences and paths of the children, offering families opportunities to meet and dialogue. Some parents made their enthusiasm and expertise available to design, build and set up, along with educators, some outdoor spaces: a sand pit, a natural atelier and a terrarium. The breakfast at school are an other example of meeting chance for families.
| | | | |
| --- | --- | --- | --- |
| | | | |
Anche le colazioni al nido sono momenti di incontro e condivisione che coinvolgono numerose famiglie insieme ai propri bambini e bambine.