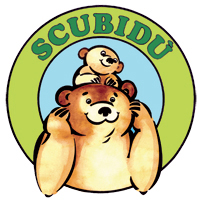 The Children and Families Center Scubidù is located in a central area of ​​the city, adjacent to the Family Center. It's a space to meet and play, designed to accommodate children and their families. Scubidù is an environment full of opportunities where children can spend some time playing with their peers, exploring and using spaces appropriate to their skills, interests and needs. The service is addressed to children from 4 months to 6 years accompanied by an adult, both residing in Unione Terre d'Argine territory and non-residing. Adults (moms, dads, grandparents, uncles, babysitters ...) can play together with children, sharing their experiences with their children, along with the educators of the Center.
The Center offers spaces specifically organised with soft and stimulating materials that promote the youngest children's sensory-motor development. A wider space offers different play chances: from the macro-building for motor games to the materials available for table activities, areas set up for the symbolic game of cooking and dressing up. There is an atelier to experience art and creativity, to play with body, hands and fantasy. The Children and Families Center Scubidù has a garden equipped with facilities and materials suitable for playing outdoor.
During the school year, in collaboration with the Family Center, meetings with experts are organised about education, nutrition, sleep issues, ... and creative workshops are offered to adults and children.
Specific attention is addressed to neo-moms with a project specifically designed for them called ''Moms Space'', a meeting space for moms and children 0-12 months: it works every thursday morning.
Due to the health emergency Covid-19, "Mom Space" reorganised its activities with some meetings, starting from September. The appointments are indicated, from time to time, on the facebook page of Families Center and 0-6 Services UTdA.
What you need
The Center is accessed by purchasing the baby pass (a 10-entry card) at the School Office of Education Department - C.so A. Pio, 91 - tel. 059 649708. The first entrance is free of charge. For activities inside the Center, adults must have Green pass and must respect the rules in force for prevention and control of Covid-19.
Schedule for age groups

Since october 2021, planning of activities and age groups has monthly schedule. Compulsory booking is required for 1 or 2 days a week, always the same for the entire current month.
DAY

TIME

Monday

9.00-12.30

Tuesday

9.00-12.30

16.00-18.30

Wednesday

9.00-12.30

Thursday

Moms Space

16.00-18.30

Friday

9.00-12.30

Saturday

only if there're scheduled activities