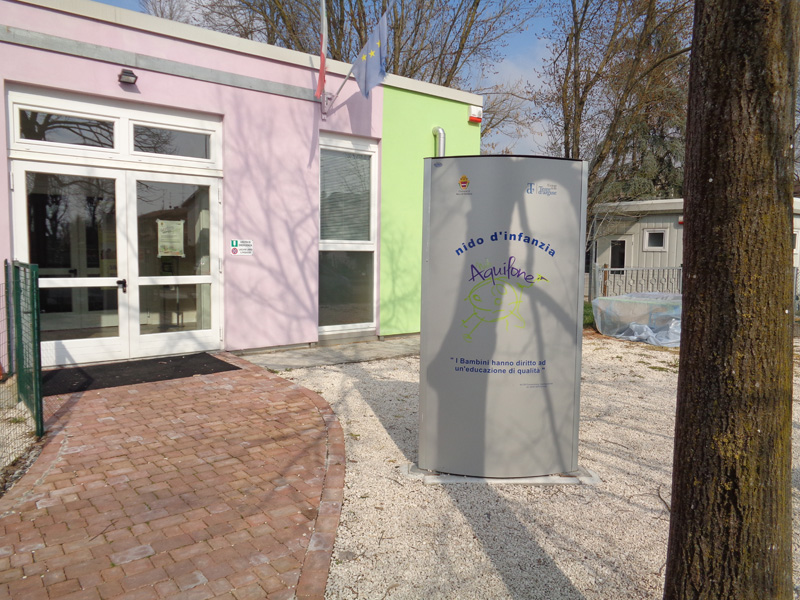 Thanks to the recent renovation of the building, after the earthquake in 2012, Aquilone nursery school presents indoor and outdoor places strongly renovated in spite of the past.
Children and families are welcomed by a large common space, located in the central area between the two large and bright sections, the atelier and the small inner courtyard. Large and soft furnishings offer children motor, game and relationship opportunities. The sections are cosy and bright, organized into play areas accurately arranged but also transformable, according to the needs and interests of the group of children that daily attend the nursery school and to the features showed by group in its growth process. This organization thorough interest centers supports an educational program geared to the autonomy of children and the development of the plurality of their intelligences.
The nursery school is also surrounded by a large and shady outdoor area. This area is intentionally and only apparently ''unstructured''. In fact, the furnishings and the game chances give children different opportunities for research, discovery and exploration, engaging them in ever new and original experiences. Many external game furnishings were planed and built along with the children families, through specific participatory project that involved them.
Families and participation
Families participation in the nursery school's life is achieved through different modes: assemblies, parents-school individual talks, the section meetings, the Nursery school Board, workshops and parties testify to the wealth of opportunities for interaction, discussion and sharing. In addition to these chances, by joining the Special Agent 006 Association, the Nursery school Board and families can activate special and transversal missions: projects and activities aimed at enriching the educational experience, play materials and project proposals for the children.
| | | |
| --- | --- | --- |
| | | |
| | | |
| | | |