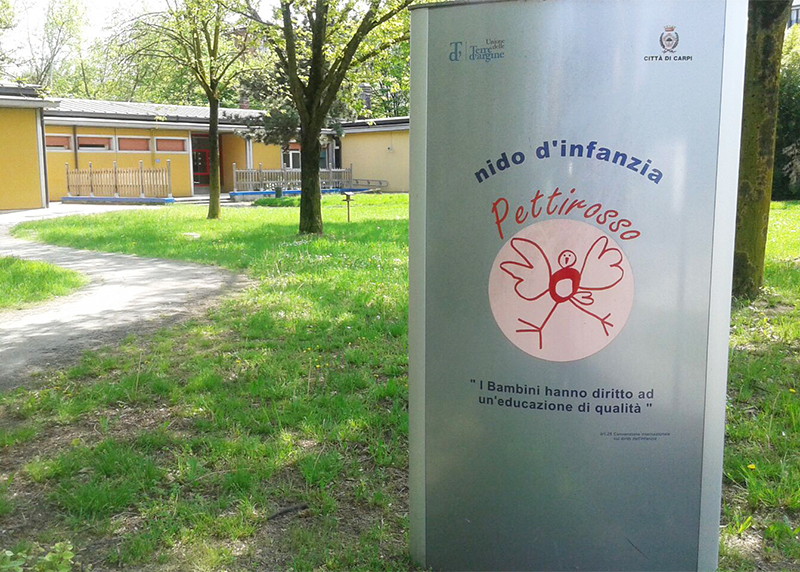 Pettirosso nursery school is located in a peripheral area of ​​Carpi, the building is surrounded by a garden full of big trees, hedges and bushes that provide colorful flowering and it's a place that offers games and explorations during all the seasons.
The nursery school has child-friendly spaces, and our idea is about a child desirous to learn and to live the daily nursery school life with confidence towards others. The environment becomes a point of reference for children, a place that offers essential playing to foster harmonious and overall child development. Particular attention is dedicated to attention for the environment, for the sicurity, emotional and discovery needs of the children. The teachers created different areas, referring to the different age of children attending the nursery school.
The nursery school is divided into three sections that are accessed from a common hallway. The younger children's section is mainly characterized by soft and cosy areas, where the child finds security and protection, and by structures and furnishings that help him/her in the discovery and movement autonomy. The middle and older children's sections are characterized by spaces and corners with a specific focus on the acquisition of greater autonomy by children, both from the motor scope and the sensorial-cognitive one. There are some smaller rooms, near to the sections, with setting up that changes during the school year (pool little balls, light table, various settings ...), based on the children interests and on the educational projects.
All sections have a space dedicated to sleep and meal and they have direct access to the surrounding park. There is also a defined area for the younger children. In the last years, thanks to families cooperation, real natural ateliers were created, highlighting the importance of contact with nature and the opportunity to offer to children outdoor meaningful experiences. In fact the park represents one of strengths of nursery school identity, with areas that allow different activities, from the movement to the sensorial paths.
Families and participation
Families participation in the nursery school's life is achieved through different modes: assemblies, parents-school individual talks, the section meetings, the Nursery school Board, workshops and parties testify to the wealth of opportunities for interaction, discussion and sharing. In addition to these chances, by joining the Special Agent 006 Association, the Nursery school Board and families can activate special and transversal missions: projects and activities aimed at enriching the educational experience, play materials and project proposals for the children.