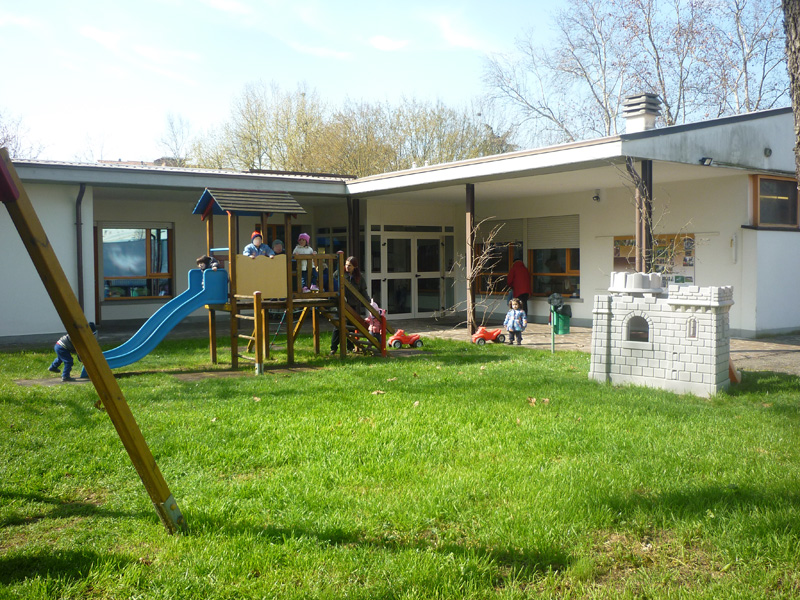 The Pollicino nursery school is located in the south of Carpi. The entrance, that is a common area, leads to three sections. Each section, large and well lighted, has a dedicated space for sleep and direct access to the garden.
In the older children's sections, there're also the ateliers, that are spaces specifically dedicated to research and creative insights, where children can enter in small groups.
All the furnishings and materials in the nursery school are particularly cared by the educators and support a child global development, with an emphasis not only on the needs age related, but also on children's potentialities and skills. For this reason, even though the section is the reference point, the spaces are continually changed and planed by the educators. They arrange the setting in order to support the daily educational work, taking into account both the personal development of the child and the changes and curiosities of the whole group. Each section enter the garden through a porch, a place full of opportunities, because you can stay outside but even if ''covered'', and this situation allows children to become familiar slowly with the natural environment.
Moreover, the nursery school is surrounded by a large garden, that becomes theatre of experimentation, research, investigation and collaborations between children and nature. It's a very large space and only partially structured: in this way it's possible to offer the children a plurality of plays, some of these more ''structured'' (through ''traditional'' playful furnishings), other ones more ''free'' and less structured, but anyway emotionally and cognitively rich.
families and participation
Families participation in the nursery school's life is achieved through different modes: assemblies, parents-school individual talks, the section meetings, the Nursery school Board, workshops and parties testify to the wealth of opportunities for interaction, discussion and sharing. In addition to these chances, by joining the Special Agent 006 Association, the Nursery school Board and families can activate special and transversal missions: projects and activities aimed at enriching the educational experience, play materials and project proposals for the children.