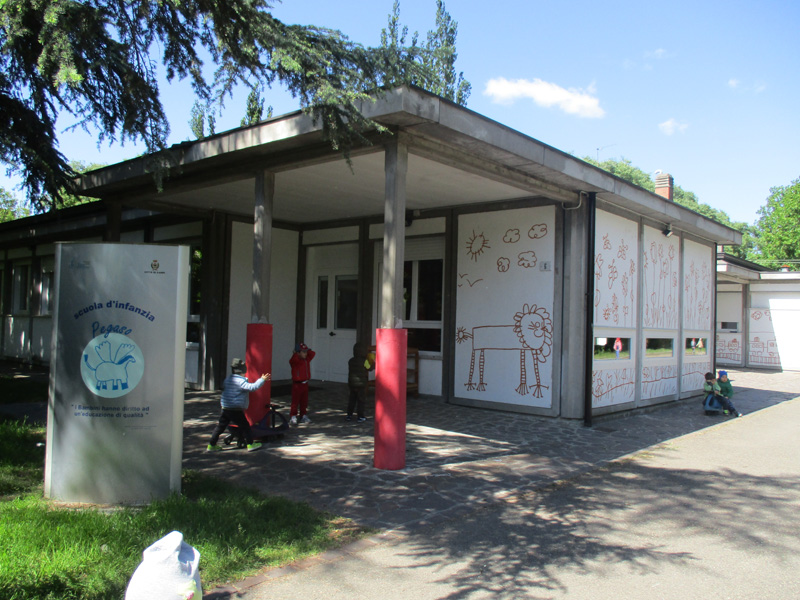 Pegaso pre-school is located in a large wooded park, which shares it with the adjacent Tartaruga nursery school, Due Ponti neighborhood.
The exterior walls of the school are recognizable because they have children drawings reproduced on the walls by parents. The entrance is experienced by children as space set up with materials for the game, exploration and discovery, where children can access independently, based on shared rules. A big building allows different motor experiences, so the children can stand on the bench to read a book, or can sit at tables for games, activities, or have a snack with friends. Three sections, divided by homogeneous age, overlook a large common area, used during the day for many experiences in small or large group, where it's possible to meet friends from other sections. The sections are organized with furnishings and materials designed for children of different age; they change over time and are used for lunch and sleep too. A space, in front of the section and set up with appropriate and different materials based on children age or interests, allows to play independently with friends. The bathroom, next to each section, is dedicated to personal care moments. The presence of ''terraces'', outdoor areas but covered, allows play experiences outside but in a protected situation, as well as offering the possibility to have lunch when the weather is good. Outside there're swings, slide and sandbox but also ''natural set up'' with logs, stony ground, the excavation area, lair and kitchen, that offer different exploration chances. Families participation was expressed in the implementation of children project ideas about the project ''The garden I would like'', in addition to the creation and taking care of school vegetable garden. The teachers' group also promote workshops, often carried out in small groups, such as psychomotor activities and English lab.
What we do...
| | | |
| --- | --- | --- |
| Esperienze in natura | Comunicare | Vediamo cosa succede... |
| | | |
| "Facciamo l'allenamento..." | In viaggio con Ulisse | Mappe percorsi viaggi |
| | | |
Families and participation
Families participation in the school's life is achieved through different modes: assemblies, parents-school individual talks, the section meetings, the School Board and parties testify to the wealth of opportunities for interaction, discussion and sharing. The Protocol for participation and collaboration between families and Unione Terre d'Argine municipal services 0/6 allowed families' initiative to repaint the external walls of the pre-school and to create outdoor furniture, built with natural and recyclable materials.