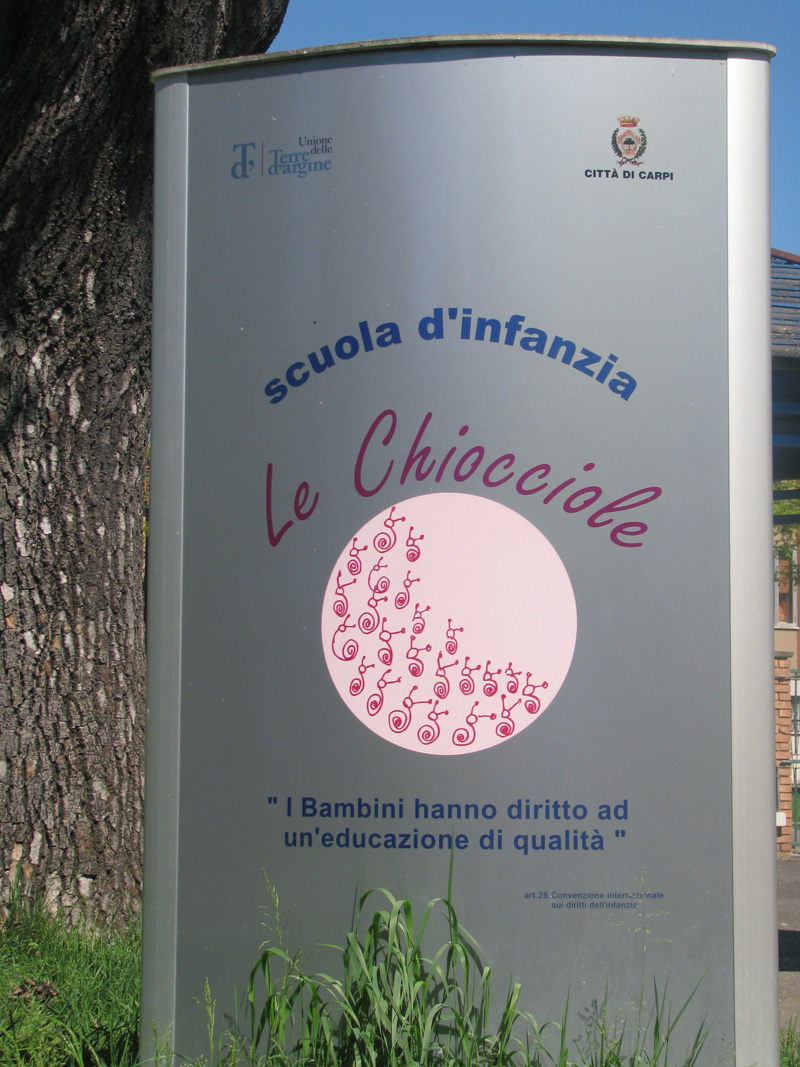 Le Chiocciole pre-school is located in the south of the city, behind the stadium. The entrance is composed by a large space, a meeting place for the welcome in the morning, for plays and workshops. The school spaces are divided into three sections that now accommodate children of three, four and five years. The furnishings and materials, according to different planning paths addressed to the childre, change, enrich and are arranged in different ways.
The garden surrounds the whole school and is characterized by motor games, swings and areas set up with natural materials to offer different exploration and play possibilities.
We mean pre-school as an educational context that represents the educational community, a place linked to a clear perception of ​​child considered as an active subject, with his own personal history, modes and preferences, and interested to know, to act, to create new relationships with adults and peers. We think it is important to offer the children the opportunity to express themselves and communicate through different languages, able to produce, like the words, actions, thoughts, images and feelings.
Our educational proposals are characterized by a particular attention to different experiences, in order to promote important learning ways for identity development and successful inclusion. Families are integral part of our idea of ​​educational community and their involvement in parties, workshops, various opportunities is an important goal to be achieved in favor of a real knowledge and exchange among different cultures.
families and participation
Families participation in the school's life is achieved through different modes: assemblies, parents-school individual talks, the section meetings, the School Board, workshops and parties testify to the wealth of opportunities for interaction, discussion and sharing. In addition to these chances, by joining the Special Agent 006 Association, the School Board and families can activate special and transversal missions: projects and activities aimed at enriching the educational experience, play materials and project proposals for the children.