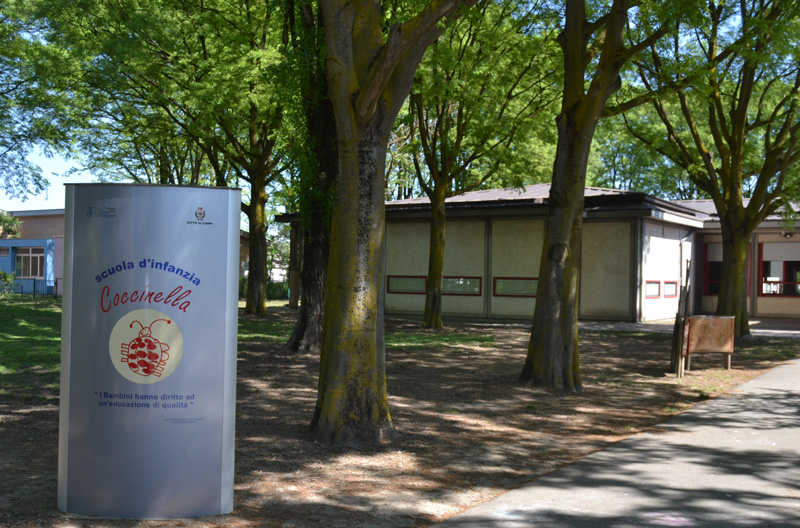 Coccinella pre-school is located in Fossoli, hamlet of Carpi.
The entrance leads to a large common area, where the three sections overlook, that are organized according to homogeneous age (3,4,5 years). This space is used during different daily moments, for motor experiences in small group, and to meet friends.
The school spaces are arranged with materials and furniture designed for children of different ages and to provide multiple learning opportunities. The documentation in the school entryway tells and illustrates the projects, the workshops and the memory of the proposals organized over the years.
The school is surrounded by a large park that offers opportunities for exploration and play. It is characterized, even more than a little hill and swings and slide, by a natural installation, the ''Labyrinth'', designed and built with families and children. We're aware that nature can offer opportunities for discovery and learning. So we promote outdoor creative and motor experiences and support experimentation and the use of natural materials with all the senses, the learning ways and opportunities that children want to manifest.
In order to facilitate the meeting and integration between all the people involved in the educational process, we've proposed, over the years, an ''intersection'' teaching method where children groups of different age collaborate and work together on common projects: the bigger children are the ''tutor'' of younger ones, which in turn help the bigger to acquire sense of responsibility and organizational skills. This methodology is used for the planning of qualifying projects and creative workshops, with the awareness and the desire to work with children in group settings that can increase the chances of learning and integration.
The school values ​​all the opportunities offered by the environment. The proximity to the Gasparotto primary school promotes exchanges and mutual visits of children and teachers and the sharing of the continuity project.
In the last years, the increasing active families involvement in school life and the helpfulness to take in projects for children, have strengthened the belonging feeling to a real educational community.
Families and participation
Families participation in the school's life is achieved through different modes: assemblies, parents-school individual talks, the section meetings, the School Board, workshops and parties testify to the wealth of opportunities for interaction, discussion and sharing. In addition to these chances, by joining the Special Agent 006 Association, the School Board and families can activate special and transversal missions: projects and activities aimed at enriching the educational experience, play materials and project proposals for the children.