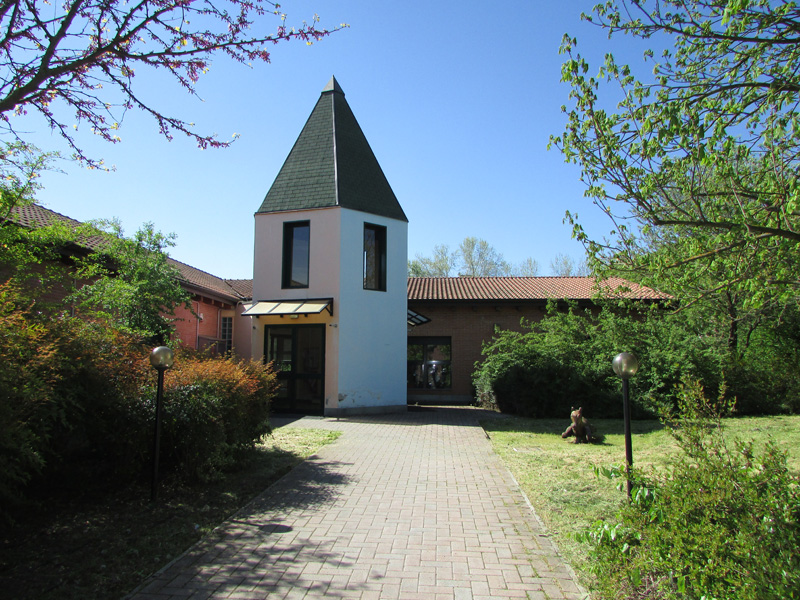 Arcobaleno pre-school was built in 2003 and was designed according to architectural criteria consistent with our Pedagogic Project, that places the children at the centre of its efforts.
The entrance leads to a large shared space which represents the "square", a place of transit, play, exchange and meeting between the boys, girls and adults who live in the school.
The four sections cleave into lateral corridors. Each section is organised in two rooms and a bathroom, set up as centres of interest with furniture and materials which, through time and depending on the different project paths, are changed, enriched and articulated in different ways.
The school also contains two ateliers with large windows overlooking the gardens, one for pictorial-creative experiences, the other set up with materials more apt for scientific, natural and manipulative experiences (including recyclables). These rooms are lived daily by small groups of children. The school is furthermore equipped with internal spaces that allow specific projects, also for the inclusion of children with special needs.
The preschool is surrounded by a large and splendid garden containing shrubs, trees, bushes and hedges with different characteristics and flowerings, adventure areas. The garden is experienced and inhabited by the children daily, through the different seasons, because it constantly offers the possibility of living the experiences of exploration, discovery and complicity necessary and important to support their growth paths. The outdoor speces allow children to build large constructions with natural materials, test their motor skills, invent different situations of play, observe small natural elements or insects and spot changes to the environment ... these experiences and opportunities enrich the children's learnings, including their emotional and relationship landscapes.
The school is in continuous dialogue with the territory, and therefore the children are often involved in walking tours (to the close-by vegetable gardens of their grandparents, to the city centre), or by bus to places further away. Every year, workshops and themed courses that also allow family participation are planned.
The sections are organised in mixed groups by age and the educational plan is according to age and skills. This kind of organisation supports both the personal development of skills and group learning and promotes he growth of the school-group as an educating community, where each child can choose according to his own personal aptitudes and activities.
Families and participation
Families participation in the school's life is achieved through different modes: assemblies, parents-school individual talks, the section meetings, the School Board, workshops and parties testify to the wealth of opportunities for interaction, discussion and sharing. In addition to these chances, by joining the Special Agent 006 Association, the School Board and families can activate special and transversal missions: projects and activities aimed at enriching the educational experience, play materials and project proposals for the children.