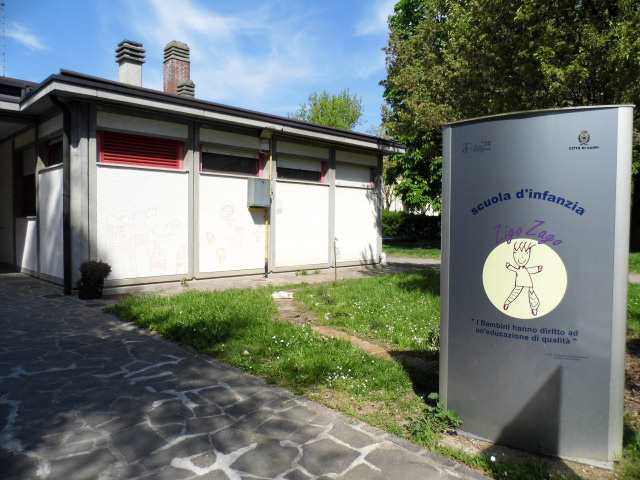 Zigo Zago pre-school is located near the city center.
The school is organized to accommodate three children sections. Upon entering, you are in a large environment much experienced in everyday life, with a big play building with a slide and lair. This place is used in many moments of the day, for motor experiences in small group, structured plays, to meet friends. The spaces in front of the sections are organized with materials and games that take into account the different children interests. The three sections are fitted with furnishings that can be changed over time. There is the bathroom, next to each section, dedicated to personal care moments.
The different project paths come from listening and observation of the needs and curiosities of children, promote learning concerning linguistic, motor, emotional-relational, scientific scopes, ... to support the motivation to do, try and experiment, in a continuous dynamic exchange and comparison among children and teachers.
The school is surrounded by a large, luxuriant garden, as well as porches, where you can play, eat, handle and create between ''inside and outside''. In the garden there are a gazebo where, over time, have implemented projects and buildings with natural materials and other settings-up created with families collaboration, such as a path with logs, two hiding place (tent and tipì) and a boat (built with recyclable materials) that support symbolic play. For several years, there is also a beautiful vegetable garden, looked after by children and teachers.
The school is open to the territory, so children often go out on foot for walks in the surrounding area or towards the center of the city, or by bus to experience opportunities and experiences offered by other educational institutions (theater, library, farms).
families and participation
Families participation in the school's life is achieved through different modes: assemblies, parents-school individual talks, the section meetings, the School Board, workshops and parties testify to the wealth of opportunities for interaction, discussion and sharing. In addition to these chances, by joining the Special Agent 006 Association, the School Board and families can activate special and transversal missions: projects and activities aimed at enriching the educational experience, play materials and project proposals for the children.